Tata Motors on Tuesday announced a hike in its commercial vehicles with effect from October 1. The price hike comes at a time when rising input costs are hurting automobile manufacturers, which are also struggling against a global shortage of semiconductors. Shares in the automaker recovered initial losses to finish the day nearly one percent higher after the announcement.
The effective price hike will be in the range of two percent and will be implemented on the basis of the model and the variant, Tata Motors said in a regulatory filing.
The company cited a rise in the cost of commodities such as steel and precious metals as the reason behind its move. The continued increase in the costs necessitates the company to pass on a part of it through the hike in the price of its products, it said.
Tata Motors also said it continues its efforts to deliver the lowest total cost of ownership for its customers and fleet owners.
The Tata Motors stock rose 0.9 percent to end at Rs 301.9 apiece on BSE, returning to positive territory after sliding as much as two percent earlier in the day. Its performance was in line with a rebound in the Sensex index, which nearly recovered all of the previous day's losses helped by IT and pharma shares.
Analysts say the availability and cost of semiconductors will likely remain an issue for the auto industry in the short term.
"The domestic benchmark hot-rolled coil (HRC) steel index price has corrected from Rs 70,000/tonne to Rs 66,000-66,500 per tonne in the September contract. We believe the price increase will partially absorb the cost and support margin," Vinod Nair, Head of Research, Geojit Financial Services.
Positive on the auto sector in view of the upcoming festive season, he said: "On the demand side, as we near the festive season, speedy vaccinations will stimulate volume growth. The sector is witnessing sequential improvement in volumes and growth can substantially rise in the coming quarter."
Technical view
Miraj Vora, Analyst at IDBI Capital Markets, said the Tata Motors stock looks weak on the charts on an overall basis.
"A rise till Rs 310 is possible but should utilise to exit or create short positions," he told
"If the China issue spreads, there will be a problem for Tata Motors as Jaguar Land Rover revenue will get impacted," said Vora.
The Tata Motors stock has risen 64.3 percent so far in 2021, easily beating Sensex's 23.6 percent return. The BSE auto index has gone up only 9.9 percent during this period.
Here's how Tata Motors shares have performed in the past year: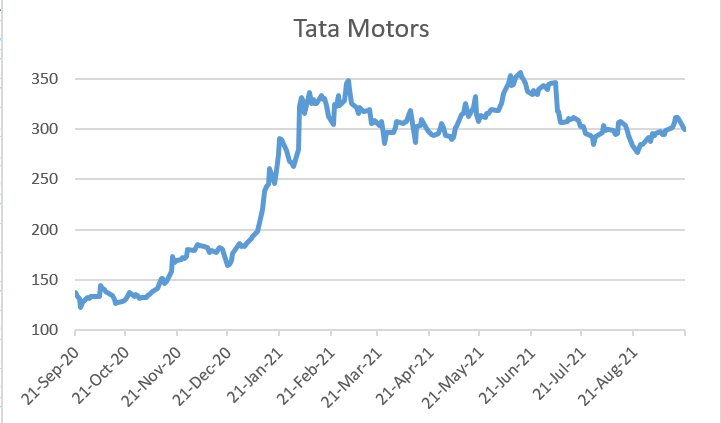 Last month, Tata Motors sold 29,781 commercial vehicles, marking a year-on-year increase of 66 percent. It beat Street expectations with total sales of 57,995 units, up 58.9 percent YoY. Its passenger
vehicle
sales rose 51 percent to 28,018 units.