The military battery market is projected to grow from USD 1.3 billion in 2022 to USD 1.6 billion by 2027, at a CAGR of 4.1% from 2022 to 2027. The military battery industry is driven by the increased use of lightweight and high-power density batteries in sophisticated military systems. The demand for lightweight and high-power density military batteries is increasing across the globe due to the growing use of various types of sophisticated systems such as air defense systems and electronic warfare systems by defense forces. The increasing deployment of Unmanned Aerial Vehicles (UAVs) and man-portable devices, among others, by defense forces has further fueled the demand for lightweight, high power, and long endurance batteries, as these batteries lead to the reduction in the overall size of the systems. For instance, the large D-sized lithium primary battery packs, which are used by UAVs to ensure their safe landing during power failures, are being replaced by small-sized and high-powered lithium AA batteries.
These batteries not only reduce the overall size of UAVs but also increase their endurance. Various players such as EnerSys (US), GS Yuasa International Ltd (Japan), Saft (France), Exide Industries (India), and EaglePicher Technologies (US) among others, are prominent players operating in the military battery market.
Key Market Players
Some of the key players profiled in the military battery market report include EnerSys (US), GS Yuasa International Ltd (Japan), Saft (France), Exide Industries (India), and EaglePicher Technologies (US). The players are mostly engaged in new product launches & developments and having a strong global presence will enhance their position in the military battery market. These players are primarily focusing on entering new markets by launching technologically advanced and cost-effective platforms and infrastructure. Apart from new product launches & developments, these players also adopted the partnerships contracts, & agreements strategy.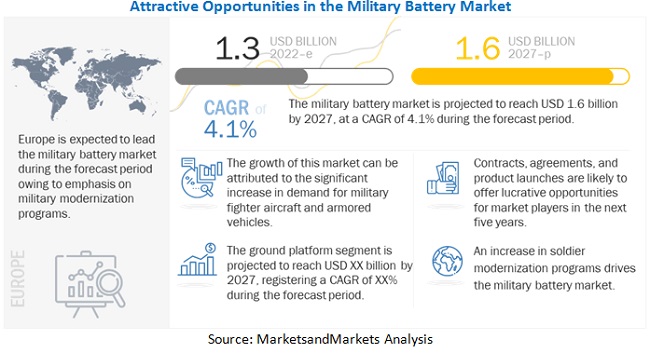 Military Battery Market Dynamics:
Driver: Growing adoption of ground vehicles and UAVs
Various countries are adopting Unmanned Aerial Vehicles (UAVs), military vehicles, and military vessels for intelligence, surveillance, and reconnaissance missions. New generation UAVs such as Predator and Heron, developed by the US and Israel, respectively, are being employed for various combat missions, including attacks on hostile ground targets. The US Army initiated a new program to replace its existing platforms with new advanced combat vehicles. The program called the Next Generation Combat Vehicle project involves the development of Optionally Manned Fighting Vehicle, Armored Multi-Purpose Vehicle, Mobile Protected Firepower, Robotic Combat Vehicle, and Decisive Lethality Platform. The program is projected to be completed by 2035. Such new projects taken up by the armed forces require military batteries and wires. Countries such as the US and the UK are investing in military vehicles and UAVs for combat, surveillance, and intelligence missions. The increasing adoption of ground vehicles and UAVs by defense forces will drive the market for military batteries.
Restraint: Regulations on lithium batteries
Lithium batteries can provide extremely high currents when required and tend to undergo rapid discharging when short-circuited. This often causes the batteries to overheat. Lithium-thionyl chloride and lithium cobalt batteries are particularly more susceptible to overheating, and a short circuit with these batteries may cause the batteries to rupture and explode. The International Air Transport Association (IATA) has therefore placed some restrictions on the transportation of lithium batteries by air. Several postal administrations from countries like the UK, the US, Japan, etc. have banned the transportation of lithium batteries by air.
Opportunity: Advancements in material sciences and battery technology
There have been significant developments in the field of material science. The specific energies of batteries have increased in recent years. There is a stark difference in the specific energies of lead-acid batteries (30 Wh/Kg) and lithium-ion batteries (205-220 Wh/kg). This has resulted in the development of small, lighter, and more compact batteries with large energy storage capacities. For instance, Sion Power developed a lithium-sulfur battery with specific energies of over 400 Wh/Kg. This battery has twice the energy storage capacity of a standard lithium-ion battery. Similarly, Exellatron developed and patented its experimental Lithium Thin Film batteries, which have a specific energy of about 300 to 350 Wh/Kg and can operate in a wide temperature range from -25C to +80C. These technological advances can benefit the drone battery industry where parameters like specific energy and temperature ranges are some of the key parameters for the selection of batteries.
Challenges: Design challenges associated with manufacturing batteries
Due to a lack of standardization within the drone battery industry, the battery manufacturers must manufacture their batteries as per customized designs. The manufacturers must also conform to the size, energy density, and weight profile for specific applications while also maintaining a competitive cost. Manufacturers are looking into several economically feasible avenues for manufacturing drone batteries and are also looking at developing other adjacent technologies such as hydrogen fuel cells for drone applications. Designers of drone batteries are investing increasingly in R&D activities to reduce the size and weight of these batteries and developing new technologies like lithium-sulfur and thin-film lithium cells, among others.
Military battery Market Ecosystem:
The key stakeholders in the military battery market ecosystem include companies that provide platforms and soldier systems. The major influencers in this market are investors, funders, academic researchers, integrators, service providers, and licensing agencies.
OEM segment held the largest market share in terms of value in the military battery market
Military battery market has been segmented into OEM and aftermarket. OEMs design, develop, and manufacture military batteries for various applications and integrate them on different platforms, such as airborne, marine, and land-based systems. The military battery market is directly linked to the defense market. The growing military spendings directly affect the military market OEMs as they produce more batteries for military applications.
The electrification of military equipment, vehicles, and aircraft will drive the OEM segment, as new batteries will be required for changing technology. In January 2021, Nexans won a contract from Airbus to develop new high voltage batteries for next-generation electric and hybrid aircraft
100-200 Wh/Kg power density is anticipated to grow at highest CAGR during forecast period
Military battery market has been segmented into three parts: less than 100 Wh/kg, 100-200 Wh/kg, and more than 200 Wh/kg. In the 100-200 Wh/Kg segment, all the batteries installed on unmanned vehicles, soldiers, and some weapons are considered. The battery chemistries in this segment are lithium-ion and zinc-air. The 100-200 Wh/Kg segment is estimated to be USD 291 million in 2022 and is projected to reach USD 372 million by 2027, at a CAGR of 5.0% during the forecast period. Increasing plans for the modernization and procurement of weapons and unmanned systems are expected to drive this segment
In terms of value, Europe led the military battery market
The UK, France, Germany, Italy, Russia, and the Rest of Europe are considered under Europe for market analysis. Europe is a manufacturing hub for various military battery manufacturers, such as Saft (Total), BAE Systems, and ECOBAT Battery Technologies. The demand for military batteries has been increasing in Europe due to the presence of the defense manufacturing industry, growing demand for defense platforms across the globe, and ongoing upgradation programs for existing defense systems.